"Action without strategy remains nothing but an illusion."
Although it's something you're probably familiar with, allow us to give you a recap on what a Sales Funnel entails. At its core, it illustrates the whole sales process journey – from fresh prospects discovering your business to loyal customer relationship with you. It's called a funnel because whilst your products and services may be marketed to millions of people,  only a fraction of those people will be interested in your business, and only a percentage of that fraction would be engaged and willing to buy the whole suite – you, your brand, your products, services and experience. So, look around, any successful business operates their sales process through this technique, in one form or another. The key difference is how to achieve consistency at every stage of the funnel.
As part of an article series, we'd like to share some tips and techniques on how to strategically market your brand and ultimately amplify your Sales Funnel.
We feel that it is important that the readers understand that Awareness does not equate to an explanation of what you do slapped with an introduction of who you are. While it may be argued that the aforementioned definitely puts your existence on the map, it should never be your full stop. As we trust you already know, in order to keep afloat in the sea of never-ending disruption and competition, your brand needs to be the Kingpiece of your marketing strategies; now, forever and always. But, take this step further. What image do you want other B2B prospects to have about your brand? You'd want them to see you as reliable, credible, truly empathetic towards their problems and a solution to it. Which is exactly what this stage is all about – increasing quality trust with all prospects, regardless of whether or not they end up buying from you.  Abandon all thoughts of selling them your product or services, such specifics come much later. In a nutshell, think of this stage as an extreme trust-building exercise, by demonstrating to all prospects that you understand them, and are willing to share your knowledge of the industry to educate and help solve their problems.
"Trust and repeated satisfaction lie not behind mere products and services, but more the company and brand association behind them."
So, feed your audience with tools, tips and techniques that showcase – not your solution – but your insight into their problems, and offer probable alternatives that could fix them. Get prospects to view you as a trustworthy partner in times of need. So instead of introducing yourself and what you do, focus on showing them what you stand for, your understanding of the problems you're trying to fix, and how all-in-all you can add value to their lives. Focus on painting the best picture of your brand and drawing these prospects in, not bombarding them with your product or service – stuff they never blatantly sought you for. There are various ways to create marketing collateral for this stage of the funnel.  Here's some methods to help you out:
INFOGRAPHIC POSTER
In this day and age, we can be brandished as a touch-and-go society. Not in a 'skim-the-surface' sense, but in the 'valuable information in the least amount of time and effort possible' sense. Furthermore, can we agree that we're simultaneously a more visual community than we were before, judging from how marketing strategies are adopting less words and more imagery? Therein lies the power of an infographic poster. It has all the essential information you need, laid out in a digestable flow, and packaged into a visually pleasing aesthetic. So instead of publishing a white paper or annual report (not that there's anything wrong with the two), an infographic would likely stand a higher chance of attracting prospects into at least acknowledging the nature of your industry and/or business. Think of it as a pretty-looking, informative overview: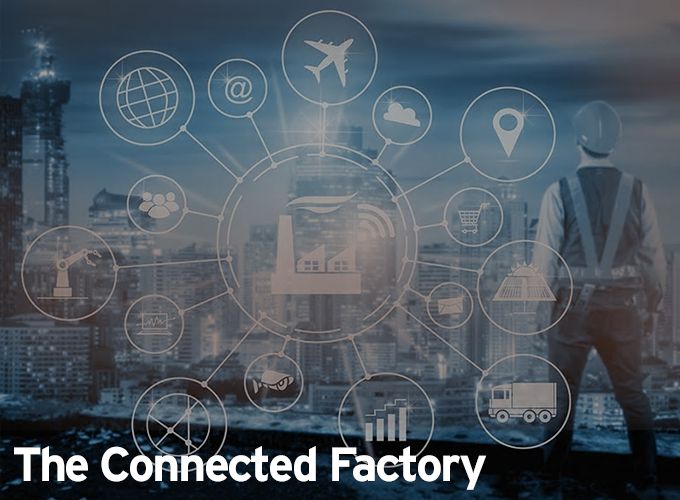 Photo taken from ManufacturingTomorrow. All credit and ownership of video belongs to © Copyright 2018 Belden Inc.
FREE APPS
Whilst leaning more towards B2C marketing, we feel strongly that the method of free applications or trials even have elements that we can take away as B2B enterprises. They offer a glance of the product or service, which allows them to immerse themselves in your experience, and letting them decide for themselves if your product or service is to their liking. Furthermore, by offering them this 'exposure', they are given the impression that your company can be trusted, as well as acclimate themselves to your technology without having to exert much effort or time training them later on. Here's a prime example of a free app that is revered by many around the globe:
Photo taken from myfitnesspal. All credit and ownership of video belongs to © 2018 Under Armour®, Inc.
THOUGHT LEADERSHIP VIDEO
Sometimes, a good way to approach this stage of the funnel is by using video marketing, because your prospects will have a face to see, and a conversation. But what should go into the content of the video? As aforementioned above, a good way to kickstart this process is to impart some of your knowledge and insight into the industry as a whole. This boosts your credibility amongst other B2B prospects as well as places you as a thought leader. Maybe we'll just show you an example; check out the video we produced for IDEAs below:
Well, we certainly hope you've taken away a better understanding of – firstly – the relevance of the Sales Funnel in Video Marketing, as well as the type of videos you should be looking to produce at the top of the funnel, because we feel that it is of the utmost importance that the reader gets a clear understanding of what works where and how (especially in such a structured system). Ergo, we'd love to get your feedback on our stance in the comments section below! Stay tuned for the next part of this multi-article series, and if we may share a few parting words:
"Today, its not about what works and how. People want something to believe in, and you've got to offer that to them."